About

Al Estagamah Flexiflo Industrial Company was formed in 1998 with some simple thoughts:
Become a specialized Company in the Hose Business
Create Hose Depots Pan Middle East
Work with Leading Manufactures of Hoses and create a strong partnership, built on basic values such as trust, honesty and transparency
Forge strong partnerships with customers and offer them the comfort of a good night's sleep – which can be achieved by only setting the highest internal work ethics and standards
Create an Environment where the employees are happy to get up in the morning and come to work-feel motivated, inspired and enjoy the workplace
Create a crack team of technicians who are passionate about hoses and work with Pride
Be inspired by Alexandre Dumas's novel, The Four Musketeers and their motto "One for All and All for One"
Lastly to create "MAGIC" at the workplace
Twenty years have gone by and we have opened Depots in Saudi Arabia, Kuwait, Oman, India, besides hose workshops in Jebel Ali (Headquarters) & Abu Dhabi. Our thoughts, Values and Principals remain the same and we continue to infuse the same passion into the business.
Our
Suppliers
We are privileged to represent the leading Manufacturers of Hoses and Fittings. The excellent relationship we share with our partners enables us to act as a conduit towards delivering the benefits of their technology to our customers.
Our
Strengths
AL ESTAGAMAH FLEXIFLO has acquired great experience from it's past and current contracts with major multinational oil companies, Terminals & Tank Farms, Drilling Companies.
Specialists in Assembling, Welding, Testing & Certification of Flexible Hose Assemblies PAN Middle East
Based In Saudi Arabia – Al Estagamah Flexiflo Factory with 2 workshops in Dammam & Jubail and 1 Central Store. Total covered area of 5000 sq mtrs
Capabilities to Crimp up to 10" ID hoses and Test up to 72,000 psi (4800 bar)
Trained and Certified Technicians and Welders
Ready to serve the industry in all locations at any point in time
Stable Customized ERP System built on Oracle Platform in all locations
Committed & Dedicated Team of Employees
Customer
Satisfaction
Al Estagamah Flexiflo ensures customers satisfaction by means of:
Ensuring quality products & services delivered on time to the clients.
Adopting management system in line with the requirements of ISO 9001:2015 standard to control and manage the operations.
Adopting customer focus, team work, overall improvement and process based approach, reliable sub-contractors / supplier management principles to perform manage, improve the effectiveness of management system with the focus on meeting client requirements and enhancing client.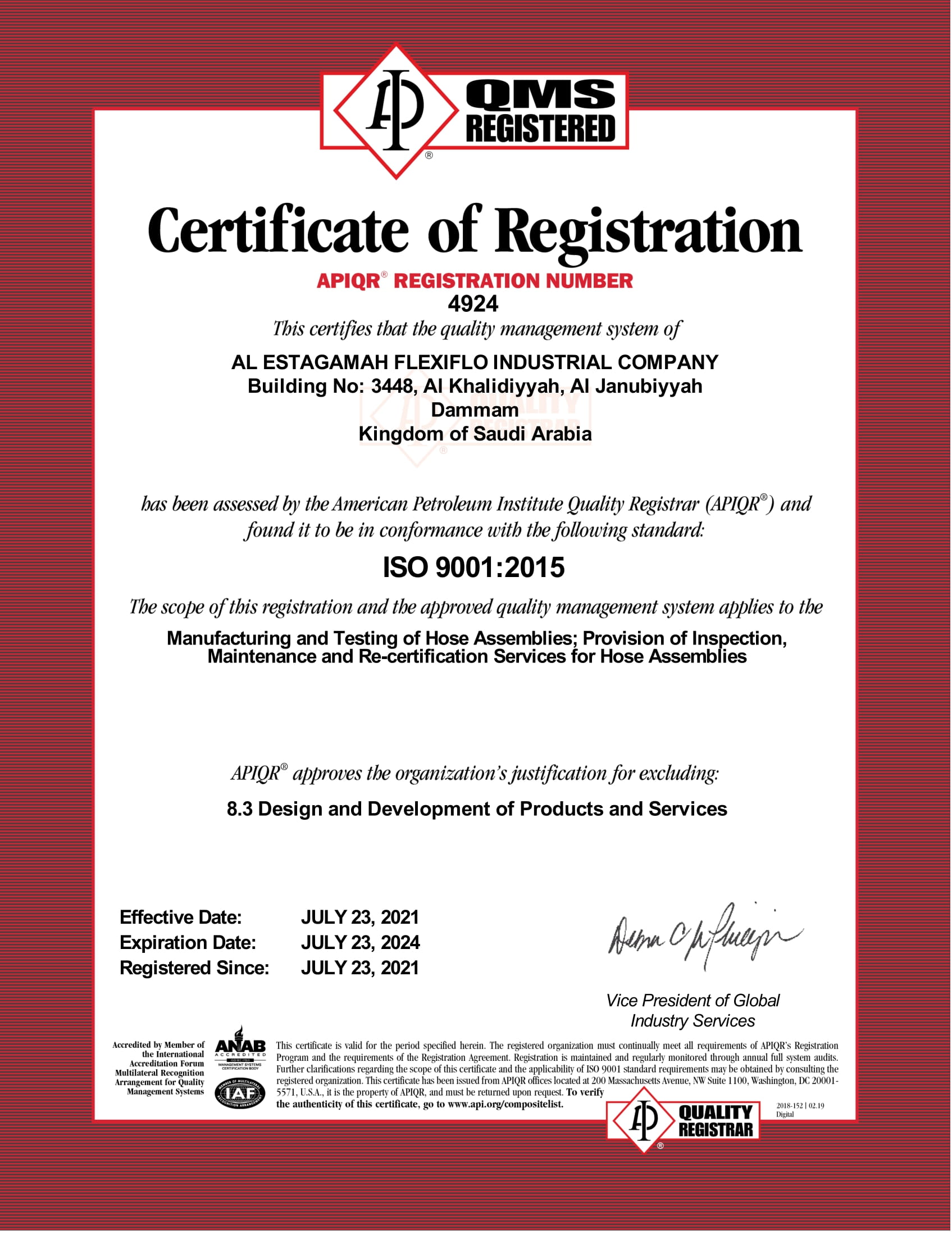 QUALITY
POLICY STATEMENT